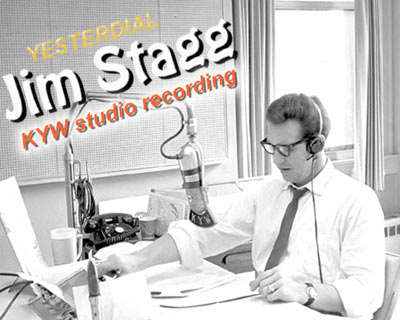 This is one of several Jim Stagg KYW recordings contributed to REELRADIO by Tom Konard (YESTERDIAL).
They are all "line checks" (recorded at the studio). Tom says he got this and all his Jim Stagg KYW recordings from Jim when he worked at WCFL.
Jim passed away in 2007.

TOP STREAM 32Kbps (10Khz)


This Exhibit 'SCOPED (17:38)

. . . With God, All Things Are Possible . . .
[Description by Uncle Ricky]
Now THIS is some wonderful family radio from Tax Day 1963, when things were so much nicer, and Jim Stagg is proper and pleasant. What a classy DJ! Jim Runyon appears on a public service announcement for April.
I never knew that Danish Processed Margarine was such an issue. The advertising culture of the time is well-represented here, it's wonderful and precious advertising history. There's even a generic weather jingle, and a Westinghouse-Approved News Sounder. Don't be frightened by the music - this is genuine variety, and most of what you will hear actually charted at the time!

COMMENTS FOR JIM STAGG, KYW CLEVELAND, APRIL 15, 1963
---