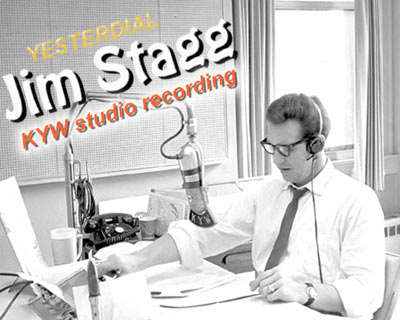 This is another of the Jim Stagg KYW recordings contributed to REELRADIO by Tom Konard (YESTERDIAL).
They are all "line checks" (recorded at the studio). Tom says he got this and all his Jim Stagg KYW recordings from Jim when he worked at WCFL.
Jim passed away in 2007.

TOP STREAM 32Kbps (10Khz)


This Exhibit 'SCOPED (14:10)

. . . our little mynah bird mascot here . . .
[Description by Uncle Ricky]
No KYW jingles in this one, but many spot announcements have a jingle. And the bird is the word as mynah bird Babycakes nearly steals the show from Jim Stagg. I suspect that Mr. Stagg wanted the bird to make an appearance — but maybe not as often.
It's a cold and wintry December in Cleveland, with announcements of school closings and Christmas event reschedulings. A spot for the co-owned Westinghouse-syndicated Steve Allen Show helped us pinpoint the date as Thursday, December 13, 1962.
Again, the quality of this exhibit is astounding, and representative of 1962 "professional" local broadcast radio audio. It was recorded in the KYW studios, and processed for the REELRADIO stream. You can clearly hear that most of the recorded commercial announcements are on electrical transcriptions (acetates and vinyl).

COMMENTS FOR JIM STAGG, KYW CLEVELAND, DECEMBER 13, 1962
---