TOP STREAM 32Kbps (10Khz)

This Exhibit 'SCOPED (16:05)
| | |
| --- | --- |
| UNSCOPED | 'SCOPED |
. . . While you're in your car, you're not very far from KLIF! . . .
[Description by Uncle Ricky]
Because of the vinitage and quality, this aircheck has been circulated for many years, but we're just getting around to it in 2015 at REELRADIO. We cleaned it up a bit, and where the dropout was bad, we restored three songs. This aircheck is just one of the thousands of recordings that contributor Tom Konard has acquired over the years, and he was happy to share it with us.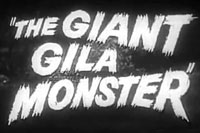 KLIF was the Top 40 Flagship of Gordon McLendon in Dallas. Our host for this all-too-short half-hour is Ken Knox (d. 1998, 63), who worked in Dallas radio for many years, including beautiful music station KTLC-FM (later KMEZ) in Dallas. But his KLIF employment included a 1959 appearance in a movie (The Giant Gila Monster) produced by McLendon, according to IMDB. Apparently, Knox was not the only KLIF DJ offered a part in a McLendon movie.
My guess is that some of the recorded commercial announcements were on acetates, well-worn and unbelievably scratchy. It's hard to believe these "electrical transcriptions" were on the air at KLIF in 1961. On the other hand, the Futursonic Jingles sound very good, as do other recorded elements, probably played from a McKenzie Repeater.
Musically, it's 50% instrumental, handy for padding to news, but those coming of age in the early 60's will remember at least two truly golden classics. KLIF JetStream News with Jack Terry is up-to-the-minute, with "newsbugs", but don't give Ms. Schmidt any trouble, she sounds very serious. This was a remarkable radio station!