TOP STREAM 32Kbps (10Khz)
. . . I drive a Studebaker, a 1956 Studebaker, with tires so thin so you can see the air in 'em . . .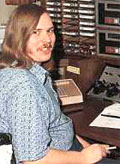 Ron O'Brien at KTLK
[Description by Uncle Ricky]
Ron O'Brien hosts a high-energy New Year's Eve show on Detroit's 50KW WCAR. At midnight, 18-year-olds can drink (legally) for the first time, and Ronaldo is just the guy to start the party. Here's 30 minutes of a hot Top 40 with incredibly good call letters, nice TM jingles, lots of watts and Big Ron O'Brien — but it didn't last long. They kept changing the format looking for instant success against some very serious competition.
There's a good news effort, here, too, and the new drinking age gets appropriate attention with a quote from a station sponsor. Who was the newsman? He delivers a ballsy, professional newscast. (His name "sounds like" Don Lesno. COMMENTS invited.)
Ron O'Brien was born in Des Moines, Iowa on October 24, 1951, and died at the age of 56 from complications of pneumonia, on April 27, 2008. He had been working at WOGL-FM in Philadelphia.