TOP STREAM 64Kbps (14Khz)

This Exhibit 'SCOPED (08:07)
. . . to play doctor and nurse, you know how much fun that is . . .
[Description by Uncle Ricky]
A high-energy performance from Top 40 veteran-to-be Ron O'Brien highlights this unscoped half-hour of WPGC-FM (Morningside, MD) from Saturday night, October 9, 1976.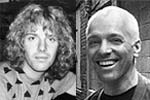 Do you feel like he do? Peter Frampton, then and then again.
Only one jingle is included, but there are two spots for acne treatment, one featuring Barry Manilow. You'll also hear the only top 10 hit for the lead singer of Nazz, and an edit of one of the longest-playing rock anthems of the '70's.
Gotta love that touch of yummy reverb on the voice-only elements (including the Public Affairs feature Sound Off) and the very good fidelity which enhance this STEREO exhibit. It sounds best with Broadband at 64 Kbps.
Ron O'Brien died from complications of pneumonia on April 27, 2008.