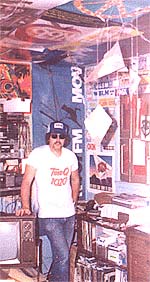 Matt Seinberg at home during College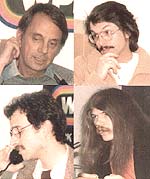 WPLJ dudes, (clockwise): John Zacherle, Bob Marrone, Pat St. John, Jimmy Fink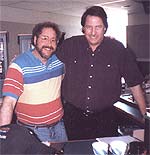 Matt Seinberg and Johnny Dark at WFLC-FM, 1998

Matt Seinberg can trace his interest in aircheck collecting to Planview, Long Island, on an afternoon in 1975. While watching cable TV at a friend's house, they got to the "What's On" channel and heard WNYT, the radio station for the New York Institute of Technology.
They called the DJ, Greg Monti, who turned out to be the GM. Greg and his friend Dave Haber became fast friends with Matt, who ended up going to NYT, joining the radio station, and getting his own Top 40 show on Sunday afternoons.
Matt's interest in airchecks came from both Greg and Dave, who had been collecting for quite a while. He started slowly and built up a network of contacts across the country. He also became friendly with a number of New York City DJs at stations like WABC, WPLJ, WYNY, WNBC, 99X and others.
Some of his favorite people include Allen Beebe, Johnny Dark and Batt Johnson. They all arrived in New York City in 1977, and he has remained in touch with them 25 years later. Matt has also met Pat St. John, Jimmy Fink, Bob Marrone and John Zacherle of WPLJ, and has had the privilege of meeting Dan Ingram on several occasions.
Matt has enjoyed trading airchecks with Bob Gilbert in New Hampshire, Bill Dulmage in Canada, and as well as the late Mike Miter of Ontario Canada, and the late Tim Benko of "Windy City" Airchecks.
Matt has never traded some of his airchecks, and he hopes to share some of them here. He intends to send more material to REELRADIO as time allows, and says, "I hope y'all enjoy them!"
Visit Matt at Big Apple Airchecks on the web!
The Repository thanks Matt Seinberg for sharing
The Big Apple Airchecks Collection!