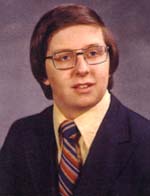 Bill Cooper, Senior, Benson High, Portland Oregon 1972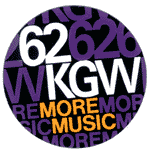 KGW Sticker, 1972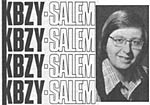 As Bill Mitchell, KBZY Salem Oregon 1975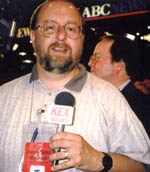 Reporting from the 1996 Republican Convention

Bill Cooper writes:
"It was 1964 and I was in the fourth grade at Sabin elementary in Portland, Oregon when I first became really aware of radio. The big thing in Portland was to cruise Burnside street and hit the red light at 10th & Burnside so you could watch the DJ in the "window on the world" studio at nintywonderful-KISN Radio. I remember bugging my dad to drive around the block so I could get another look at The Real Don Steele doing his stuff. Too bad I wasn't savvy enough to aircheck any of the great radio I was hearing. That would come later.
It was at Portland's Benson high school in 1971 where I got my first shot on the air. At the time KBPS was the only AM radio station owned and operated by a school district. A good deal of the programing, from high school sports coverage to rock and roll music shows, was produced by the students. Its still on the air, and still turning out great radio talent. While at KBPS I landed an job answering the request line for KGW in Portland. That eventually allowed me to work into a weekend all-night shift. The program director told me he'd have someone show me how to run the board. I never told him that for at least two hours every night for nearly a year I had been running the board for the 10pm-2am jock, Joe Cooper (no relation). Joe knew just how much desire I had to get on the air, and he knew just how to help.
My aircheck collecting continued as I worked throughout the northwest at KGW, KGON-FM Portland, KBZY Salem, OR, KVI-FM Seattle, WA, KITI Centralia-Chehalis, WA., KEX and KPAM, Portland. As of September, 2004, I am General Manager of KBPS-AM at Portland's Benson High School — the very station that got me started in radio back in 1971.
I'm glad I can share these memories with other fans of classic top 40 radio. My thanks to the many people who helped me preserve these moments by letting me at their tapes!"
Visit Bill at www.voiceimagenw.com
The Repository thanks Bill for sharing!