Drake Wake
by Don Barrett, L.A. Radio. Used with permission.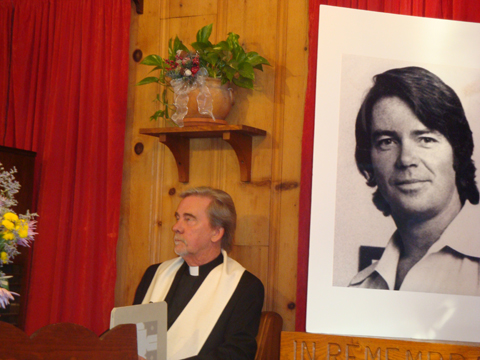 The Reverend Charlie Van Dyke during the Bill Drake Celebration of Life (December 5, 2008) New Jersey may claim they have the Boss, but on a Wednesday afternoon (December 3, 2008) in Southern California, it was time to pay tribute to the Boss of Boss Radio. Some of the biggest names and personalities in Top 40 radio caused a seismic shift in Studio City, as they gathered to remember the ultimate Boss, Bill Drake.
The main auditorium at the Little Brown Church on Coldwater Canyon in Studio City on Wednesday was overflowing with friends, family and colleagues of Bill Drake. Bill was the architect of the enormously successfully 93/KHJ Boss Radio, a format so successful it became the most copied format ever in contemporary radio.
Charlie Van Dyke, an ordained minister and a former Drake jock and pd at KHJ from 1972-77 and on-air at other Drake stations in San Francisco, Boston and the Detroit market was chosen by Drake's longtime partner, Carole Scott, to officiate the services. Charlie addressed his Lutheran clothing complete with clerical collar and stole early in his opening remarks. "And about now, I can see Bill looking at all of us and me dressed this way and saying, 'Watson, what happened to Van Dyke? I always thought he was one of us!'"
Charlie created a tight format for the afternoon's proceedings that most of the participants adhered to. "And I can hear Bill again saying, 'That's fine ... just keep it moving ... remember forward momentum!' So, we have chosen a few people to share reflections today. And I think they represent a good variety of Goldens, Boss 30 hits, and Boss hitbounds and just a taste of a rockumentary. So, moving past the Top Of The Hour ID, and sweeping the :03 continuing sign-on, we pause at the :07 promo set for a prayer." After some laughs, Charlie brought in a spirit of spirituality to the proceedings with a couple of readings from the Bible.

KIIS and KTLA/Channel 5 airborne reporter Commander

Chuck Street

and

Bill Watson




Sean Conrad




K-EARTH's Charlie Tuna
Charlie continued: "So, we share the confidence that there was a room waiting in the Father's house for Bill. Well, not really. In Drake's case, it would be a suite. It would have a well-stocked bar, shelves of audio equipment, of course, and just beside his favorite chair, there is the batphone. And we can have pretty good confidence that he will put his talents to work up there. Many have talked about the Righteous Brothers song, 'Rock and Roll Heaven,' when I've talked with them about Drake. So, we can predict that as he takes over consulting K-GOD, he is pleased to know that some of the finest talent to ever grace the airwaves is waiting for him. Talent that he selected and groomed welcomed him to the jock lounge and helped him get up to speed. And after experiencing the early examples of Boss Radio on earth, he'll dazzle the galaxies with his next project. And can you begin to imagine what the jingle singers sound like up there? One day, we will be able to hear it to ... because, Ladies and Gentlemen, in faith we know ... the beat goes on!"
Bill Watson was Drake's national program director. Watson now lives in North San Diego County. He hitched a ride to the Celebration of Life with KIIS' Commander Chuck Street. Chuck met Watson as a youngster hanging outside the KMEN studios in the Inland Empire, where Watson was PD. That's where Drake and Watson first met. "Drake told me to sit tight, I have something in mind for you when the time is right. It was mysterious and I had no idea what he meant," said Watson.

Drake's partner of 11 years

Carole Scott

and Drake's daughter

Kristie

flank Kristie's husband.



Lisa Osborn


Record promo guru

Don Graham

and former K-EARTH personality

Johnny Hayes
Watson went on to consult R&B KDIA/Oakland. During a San Francisco visit, Drake and Watson met again. "Obviously I can't be everywhere at once so I need someone to be where I am not", said Drake. "And that's you." And that's how the magical relationship began.
Ken Levine was another of the half-dozen speakers. "Bill Drake fired me," opened Ken. "It was 1974 at K100. I was on the air as Beaver Cleaver. No, he fired me for another reason. Actually, he had Watson do it. Anyway, you'd think I would be resentful. And usually I am. But I owe so much to Bill Drake. The impact he had on my life is immeasurable."



Gary Owens

and

Ken Levine


Former

KOST

midday host

Mike Sakellarides


Former Boss Jock

Humble Harve

, KHJ Production Manager

Bill Mouzis

,
and

Charlie Tuna
Ken talked about being "mesmerized" when hearing KHJ for the first time in 1965. "If Tom Cruise had discovered Boss Radio before Scientology he'd have that same profound feeling but be far less nuts today. Bill set the course for my life's work and I am forever in his debt. It was always amazing to me how Drake had such a keen understanding of people and the world around him," continued Levine. "He never got out. When your sample size of America's taste and teenage behavior is a 65 year-old waiter at Martoni's named Nunzio, how do you program so insightfully, so pinpoint perfectly to an entire generation? Bill Drake did. He had this uncanny knack of knowing what we wanted before we did. Even Sonny & Cher. Boy, how did he make that call?"
Levine continued: "But from his fortress in Bel Air, where only Bernie Torres and the delivery boy from Vendome Liquor were allowed to enter — Bill Drake created a format that forever changed an entire medium and shaped the lives of millions of young people — all for the better. We baby boomers felt energized, optimistic, excited about a future that held endless possibilities. How much of that is because we also had Fractious Fridays and Million Dollar Weekends and a Big Kahuna handing out money at junior highs (although that one was a little dicey)? My entire generation owes a debt to Bill Drake and his vision, even if they have no idea who he was."

Two-time Drake music guru

Annie Van Bebber

and

Bernie Torres


Former

KTWV

personality

Amy Hiatt




Charlie Van Dyke
Jhani Kaye is having enormous success as program director at K-EARTH. In the early 1990s, Bill put his programming stamp on the station playing the "Greatest Hits on Earth." Jhani talked about growing up in Hemet, and remembering the exact moment he was introduced to '93/KHJ' and the Drake formatics for the first time. "The presentation we heard on the air was something new and exciting and far surpassed the programming we heard on the two Top 40 radio stations in nearby San Bernardino. That was the beginning of Bill Drake's influence in my life. And little did I know then that he would become so influential in my role as a programmer."
While studying for a 1st Class Radio License at Bill Ogden's Radio Operational Engineering School in Huntington Beach, Jhani remembers that he along with some classmates would listen to KHJ and airchecks of KFRC, 'The Big 6-10' in San Francisco. "We would take turns at talking up the songs along with The Real Don Steele and Sam Riddle, and all the rest. Bill Drake stations were the 'Gold Standard' and our goal was to perhaps one day sound good enough to work on a Drake station.'
"Bill Drake was the 'ultimate programmer' and perhaps the greatest teacher of radio in the country," said Jhani. "It was a challenge for us younger programmers to listen to Bill's stations and analyze why Bill would play two jingles with the weather, or only allow the jock to speak on the second record of a two-song sweep, and so many other intricacies of his formats."



Shaune McNamara Steele

,
K-EARTH's

Shotgun Tom Kelly


K-EARTH morning man

Gary Bryan

, K-EARTH middayer

Jim Carson

,


Gary Owens

,

Ken Levine


Radio & Records founder

Bob Wilson
When Jhani was appointed program director at K-EARTH a few years ago, Bill Drake was the first to call and offer his congratulations. "He reminded me how much he loved K-EARTH and that the station is a 'grand lady' and I should use all the programming instincts I had learned from him in order to honor the heritage that came along with the position. What a thrill that was. And on behalf of all the programmers that followed in your footstep, 'Thank you Bill. It's been a real privilege to learn from the best and thank you for being our mentor, our friend, and a stellar example of what a radio programmer should be."
Jhani concluded with: "Before 20/20 News, there was news on the hour. Before 'forward momentum,' there was 'This is and that was.' Before 'hot clocks' there were no clocks. Before Johnny Mann's a capella jingles, there were station 'songs' that lasted almost as long as records. And before 'all others' there was Bill Drake. God bless you, Bill."
Bill Mouzis was a production engineer at KHJ for 14 years before he met Drake in 1965. "You know, I am fully convinced that one of the reasons I survived World War II was that I was destined to work with the likes of a Bill Drake. It appears FATE insisted upon it," said Mouzis.

Former KHJ newsman

Roger Aldi

, 20/20 newsman

Lyle Kilgore




Gary Owens




Jhani Kaye

and

Charlie Van Dyke
Mouzis provided some of the history of KHJ just before Drake came on the scene. "A format was emerging which would make KHJ 'the Personality station,'" said Mouzis. "Gypsy Rose Lee and comedian Morey Amsterdam were in the process of being signed, and Steve Allen was already on the air daily with a show from his home in the Valley, in fact I was his producer / engineer. At the very same time, and unbeknownst to practically everyone, the change of all changes was being discussed with President Tom O'Neil behind closed doors at RKO headquarters in New York."
Shortly thereafter, it was announced that KHJ would be abandoning its current programming plans and go rock 'n roll. "The news was shocking and it caught everyone by surprise," remembered Mouzis.
Bill Drake and Gene Chenault took complete control of the RKO Radio division in the Spring of 1965. Mouzis thanked Clancy Imislund, who was the promotion director at the time, for coming up with the actual term "Boss Radio."

Engineer

Ken Orchard

, former Boss Jock

Mark Elliott


K-EARTH's

Bruce Chandler

and

Keith Smith


former

Robert W. Morgan

producer

Kevin Gershan

and KHJ Boss Jock

Dave Sebastian Williams
"Subsequently and on a more personal note, a working relationship between Drake and I evolved that was magic," continued Mouzis. "It was creatively instinctive, it was warm and it forged a bond of respect and friendship between us that was never to be broken. With the advent of 'Boss Radio,' America heard radio as it never had before. It was simply a smash."
Over the years Mouzis and Drake lost track of each other. A few years ago, Mouzis ran into Drake and his partner Carole Scott at Monte's in Woodland Hills. "I cannot begin to tell you how emotional it was getting together with him after all this time, and we did it a number of times after that, the latest being only a few month ago. Never did I have an inkling though that he might be sick."
Mouzis concluded: "Bill Drake was not only a great talent, but a wonderful down-to-earth human being who knew how to treat you with the genuine and gracious smile of a southern gentleman which he truly was. I have already shed my tears, and in closing I would refer you to Frank Sinatra's version of 'Thanks for the Memories,' introduced by Bob Hope as his theme song many years ago. I think this particular lyric relates somewhat to Mr. Drake's untimely passing. It reads: 'I had my bed of roses, but forgot that roses die.' Carol, I too thought he would live forever."

KNX & KCAL/Channel 9 Money 101 host and former KFRC newsman

Bob McCormick

, KFWB's

Bill Nesbitt




Bill Watson

at podium



Julio Flores

and

Lee Chambers
Les Garland, former pd at Drake-stations KFRC-San Francisco and CKLW-Detroit, flew from Florida to attend the services on Wednesday. He read the moving letter that he wrote to his two sons about Bill Drake. (The letter and Drake's response appeared in Wednesday's LARadio.com).
In introducing Charlie Tuna, Van Dyke said: "He wasn't there on Day One of Boss Jockdom but he got there as fast as he could and he holds the record for Boss Jock longest on the air in Los Angeles who is just about out of call letters."
Tuna remembered that it was on Thanksgiving Day 41 years ago that he joined KHJ. "Bill Drake to me was someone who was immortal. You never thought Bill would leave. You always thought he would be there for you," said Tuna.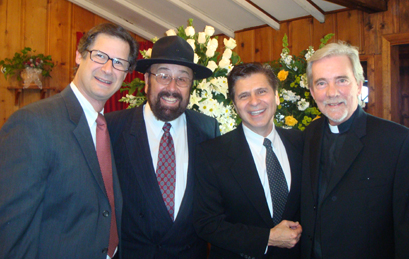 Ken Levine, Shotgun Tom Kelly, Jhani Kaye, and Charlie Van Dyke Tuna was first introduced to the Drake format at KOMA/Oklahoma City in the summer of 1966 where he was working. At a jock meeting the program director played tapes of KHJ and explained that this station had gone rocketing to the top in L.A. and that's the sound he wanted for KOMA. "After listening to the KHJ tapes, we walked out of that room so jacked up it left our heads spinning because we couldn't believe the momentum, the pace and just the sheer excellence of this radio station. It got us all excited about radio."
A year later Tuna was in Boston when Drake was in town and invited him to join KHJ. "On my first day I walked into Bill Mouzis' production room. The first thing I saw was the blinding jewelry that Bill Watson wore in those days. Then I saw the towering presence of this man, Bill Drake, and it was one of those larger-than-life moments. I had never met the man yet but I knew he was responsible for getting me to KHJ. I stood there in absolute awe and I can't tell you the details of that meeting because it was like you met God. I remember that he had a quick smile and he was very warm — a real southern gentleman and he made me feel like I belonged."
"The Drake format could make a good jock sound great. It could take a pretty good jock who had great content and make him a super star," said Tuna. "And that happened time and time again with Bill Drake. With Robert W. Morgan and The Real Don Steele in heaven, that's a party."
Gary Owens recounted meeting Bill Drake when he still used his birth name Phil Yarbrough. "I was the morning man at WNOE in Louisiana for Gordon McLendon. A good friend of ours, formerly from KIMN in Denver, Jimmy Neil, became Scotty Day with the Bartell organization. My wife and I drove up to Birmingham and that's when I met Phil Yarbrough. My name at the time was Lucille Ball."
From 1957 until today, I've always liked Bill Drake. He did such a great job with the broadcast industry and was one of the great innovative people."
Owens left the packed house with a laugh. "There was a KHJ Boss Jock who will remain nameless. Just last week this jock was probably not quite as vivid as he used to be. He went to proctologist for a check-up and accidentally yelled out the name of another proctologist."
I was able to share a historical perspective about the importance of Bill to not only Los Angeles radio but to the entire radio community. "To have lived in our hearts and minds, is not to die."
In conclusion, Ken Levine said: "Wherever you are up there, Bill, just know that we love you, we miss you, and the kid from Vendome Liquor needs your new address."