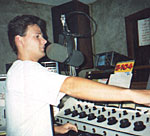 Brian Kay at KBFM-FM in McAllen/Brownsville, Texas, 1990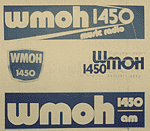 WMOH (Hamilton, Ohio) bumper stickers. Top: 1977, Left: 1967, Right: 1986, Bottom: 1980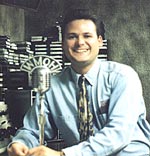 Brian Kay today, at WMOH.

Brian Kay, currently an Account Executive at 1450 WMOH, Hamilton, Ohio, was interested in television early in life. He even learned to write backwards to be like the weather guys on TV! But his love of music, and the record collection he had started at a young age led to a greater interest in radio — in particular, the Top 40 stations. And, the fact that his father, (whose aircheck is heard in this collection), worked in Top 40 radio also added to Brian's interest. To top it all off, it became a family affair; Brian's brother, Rodger Jr., worked part-time at WMOH, running various syndicated and public service programs, as well as the occasional opportunity to "crack the mic". Having grown up around radio, whether it be the programming or the business side, it was only natural that Brian got into the business.
While in high school, he would occasionally do some 'board-opping', when needed, at KNCN-FM in Corpus Christi, Texas; while in college, he got the opportunity to do weekends/swing at KBFM in McAllen/Brownsville, Texas, leading to a full-time shift doing 10pm-2am there. In October 1992, Brian returned to his native Cincinnati, working various odd jobs, while doing weekends at WKRQ-FM, until March of 1995, when he "came home" to be a part of the staff of Hamilton, Ohio's WMOH, where he is today.
The airchecks featured are from Brian Kay's personal collection. ENJOY!
The Repository thanks Brian for sharing!