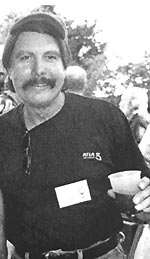 Bob Maslen, 2003 Cal State Northridge Reunion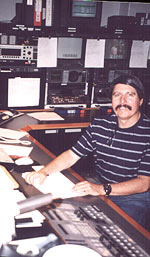 Bob Maslen in the KTLA-TV Los Angeles Master Control room.

From the time Bob Maslen was very young, he always wanted to be a TV cameraman. He graduated from high school in 1965, already a radio junkie, and took Radio and TV at Los Angeles City College and Cal State University, Northridge.
Bob started collecting radio station record surveys in 1958, but in 1966, a friend played some airchecks he had made of KHJ from a year earlier, and it blew his mind. From that moment on, he became an aircheck freak, making his own airchecks, and trying to obtain anything he could from the late fifties and early sixties.
In 1969, he contacted every jock in L.A. who had been around in the earlier sixties, hoping to trade with them. Except for Casey Kasem, everyone said that they had nothing and that it had never occurred to them to save old airchecks. Of course, they were sorry.
Several years ago, Bob had an aircheck mail-order business called Aircheck Archives.
He started working at KTLA-TV in Los Angeles in 1973 while in school, first in the mail room and later in Engineering, where he still works.