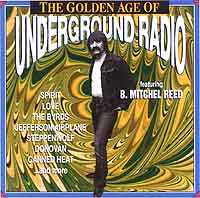 The Golden Age of Underground Radio featuring B. Mitchel Reed

is a new CD compiled by Rick Williams of DCC Compact Classics. Airchecks of the "Beamer" on KMET, Los Angeles, 1968 - 1971 were provided by Carole Reed, and this volume faithfully recreates the sound of a typical airshift. It also includes 14 uncut vintage stereo rock originals from SPIRIT, CANNED HEAT, DAVE MASON, THE BYRDS, and others.

Through a special arrangement with W3 Public Relations, Los Angeles, and DCC Compact Classics, TEN of these collectors' quality CD's were awarded to Repository visitors who BEAT THE BEAMER between October 26 and November 15, 1997.