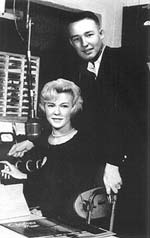 Bob Mayben and wife-to-be Joanne, WETO Gadsden Alabama, 1963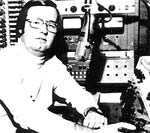 Bob Mayben, WJBY Gadsden Alabama, 1973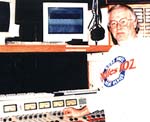 Bob Mayben, WMYU Oldies 102, Knoxville TN, 1998

Bob Mayben writes that his interest in radio began in 1958:

I went with my dad to visit his lawyer friend, who had an office in the Pioneer Life Insurance building in Gadsden Alabama. The building also was the home to the WCAS, 570 kc (a daytimer, then) studios. A big double glass window in the lobby held me at bay while I watched in amazement as a guy played records on these "HUGE" (16") turntables, while sitting at a science fiction movie-ish control panel. And thus began my love of the radio business.

I began listening to local and area radio stations. I was fortunate to be able to hear WSGN in Birmingham and witness the magic that Jim Tabor brought with him from WABB in Mobile. Then I discovered the "clears" that skip in at night. I still have my Cousin Brucie Fan Club card!

Since October 1963, I have made a living from this wonderful business which is also my hobby. I went up through the ranks of the stations in the area, WETO, WGSV, WPID, WAAX , and WCRL to finally become a PD of WJBY and WLJM-FM in my hometown. Eventually my interest went to the engineering side, and I have enjoyed being a "chief' at many stations in the southeast, including a stint as Engineer in Charge of the CNN Radio Network for "Ted".

Since 1999 I have been a salesperson for SCMS Inc., (selling broadcast gear of course), and I do a weekly oldies show for FUN 92.7 in Huntsville, AL. I have collected stuff on tape for too long, and thought I would share with you.