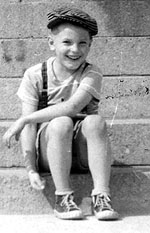 5-year-old Charlie in 1958, looking like one of the Little Rascals.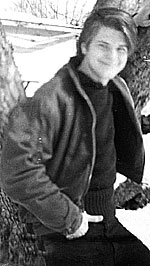 Charlie at age 16, dreaming of being on radio.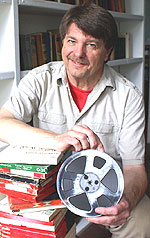 Charlie Jordan today with just a few of the boxes of reel to reel tapes he recorded beginning in 1968.

Charlie Jordan received his first transistor radio in 1962 and his first battery operated tape recorder for his 15th birthday in April 1968.
Charlie writes: "By the summer of 1969 I had moved up to an electric reel-to-reel recorder. That summer I began taping anything and everything around me. A big part of my world was radio as I was trying to decide if I wanted to pursue a career as a disc jockey or a writer. I once even wrote to one of my favorite DJs, Barney Pip, when he was on WCFL and asked him how to get into broadcasting. Pip sent me back a letter with suggestions and an autographed picture.
As it would turn out, I became a writer and editor, actively pursing this career since 1970, which I continue to this day. But I never lost my love for radio and continued taping airchecks of my favorite stations and DJs well into the 1970s.
In 1982 I became the founding editor of a national magazine called Collectibles Illustrated and the publishing company sent me all over the country promoting the magazine in the early 1980s. The magazine dealt with hot collectibles and trends in collecting. This gave me a chance to fulfill my "radio fantasy" as I ultimately appeared on some 400 radio and television programs from California to Maine, including on some of the former Top 40 giants I used to listen to, like WABC, WRKO and WMCA — by then all-talk. I did one middle of the night appearance as a guest on Larry King's radio program in 1984 at Mutual's studios in Washington and appeared on CNN television when it was just a few months old. Before Regis and Kathie Lee went national, I appeared on their New York-based show at the WABC studios in 1986 and was also interviewed for "Entertainment Tonight" in Hollywood and even the Voice of America.
Today my wife and I own and operate a country newspaper in northern New Hampshire, the Colebrook Chronicle, but I still dream of those days in the late 1960s when my biggest ambition was to be a Top 40 disc jockey. These days I'm finding more time to go back over the miles of tapes I recorded between 1968-78, searching out more aircheck memories to share.
Thanks, Uncle Ricky, for providing such a great place to share those recorded memories."
The Repository thanks Charlie Jordan for sharing!