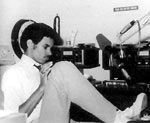 Dave Randall at KLON in 1981, trying to juggle studies and the ponderousness of public radio.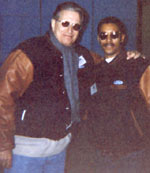 Boss Jock and Disciple.....Don Steele and Dave Randall at a Ford Media event in 1996.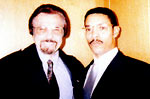 Gary Owens and Dave Randall at Robert W.'s Retirement broadcast.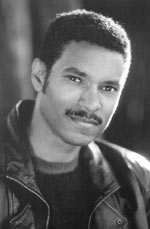 Dave Randall, 1999

Dave Randall caught the radio bug very early. He writes:
"It was my addiction to baseball and football that did it. In those days of the black-out, radio was the only means of keeping up with the Dodgers and Rams when they played home games. Lucky for all who would enter the business, Southern California was blessed with Vin Scully behind the mike for the Dodgers, and Dick Enberg for the Rams. Their language and artistry recreated a picture almost as well as a Color TV.
At Cal State Long Beach, I studied Radio/TV with a Journalism Minor, thinking I'd one day be a sportscaster, like my idols. I did well enough at it, winning awards in college, and a Golden Mike just after college when KLON, a Public Radio/Jazz/News station, was purchased by the university and supplanted our ten-watt college station, KSUL.
At KLON, I did sports and a late night jazz show. After two years, I realized that at the time (1984) my sports reports were based more on humor and energy, and jobs were few. On a treadmill, I knew TOP 40 (by then CHR) would be the only avenue for using my talents properly. The thing was, the format was just in the beginning of its renaissance, and there really was no one to listen to and learn the basics from. Sure, there was KIIS, but when you're taking baby steps from another format like jazz and sports, you need to go back to the roots. That's where the Man of Steele comes in.
When The Real Don came back on the air in 1985 at KRLA, I was astounded. Up till then, oldies were presented either in AC/AOR type presentations, or with the care of a docent, who guarded the museum with a jealous passion, lest his precious gems be smudged by the philistines who dared listen. Suddenly here was this man whom I had watched grabbing babes by the waist on TV, pouring verve and fun...and most importantly LIFE...into these old songs! I'd been a fan as a Kid, but now there was professional respect, and he became an idol.
In 1986, I finally made it out of the musty halls of public radio and to San Diego and K-LITE, where I was initially hired by ex-610-man Mike Novak. Mike wound up taking off, and by 1988, the station changed to a brighter-AC, Y-95, where I stayed till that July. I knew I needed to work Top 40 to get it out of my system and hone my chops. So, from America's Finest City, I moved to Oxnard and Q105, the FM sister and spiritual Top 40 ancestor to KACY. The first couple of years I did nights and a countdown show, direct from that rundown chicken shack that once served as home to Bob Eubanks, Shotgun Tom, and anyone else who passed through Oxnard between the mid-'50's and late-'80's. Its safe to say, I learned my craft amongst the strawberries and the alligator lizards.
By 1992, CHR had changed again. Straight ahead "Jock's jocks" were falling by the wayside to those who sounded very young or very street. After some frustrating attempts, I decided to find a job where I could use my Top 40 style energy, but it wasn't a Top 40 station. Why not K-Earth? I took a shot, and got hired in 1994.
Since then I've had the opportunity to work with some of the biggest names in radio, and it continues to be more fun than anyone can imagine. The opportunity to have been on the same staff with my Idol, the Real Don Steele, and Robert W. Morgan was a career highlight. Their like will not be seen or heard again. I wrote Shaune Steele after Don passed and told her of the impact he had on my career direction. She's a very gracious woman."