TOP STREAM 64Kbps (15 Khz STEREO)

Rosko (Bill Mercer) WNEW-FM New York NY November 13, 1967 (59:10)

. . . same as chasin' the rabbit . . .
[Description by Uncle Ricky. Exhibit contributed by Dave Saviet]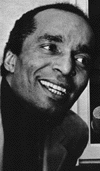 Rosko

Even if you have no interest in unscoped airchecks, listen to the first five minutes or so....

Rosko

's monologue following White Rabbit is what it was all about. This legendary radio talent passed away on August 1, 2000.

Contributor Dave Saviet sent this to me as Rosko, WNEW-FM, 1967. That's all. Portions offer fidelity much better than even a studio recording from the time, so let's assume that some of this has been re-constructed for our enjoyment.

Now, Rosko left WOR-FM on October 2, 1967, and he promotes a Carnegie Hall concert on Thanksgiving Eve, so this show from November 13, 1967 must have been one of his first on WNEW-FM. Rosko didn't like the WOR-FM format, and what he wanted to do, apparently, was play a lot of the very coolest music of the day, with very little formatic structure or spoken contributions on his part — after he said what he had to say, of course.

I can't imagine a better "image" exhibit for the Fall following the Summer Of Love. This is flat out emerging Album Oriented Radio and a few selections won't be familiar to Top 40 listeners. Who voices that Marine spot? Sounds like a famous NY voice. And the NAB Who Listens To Radio spot begs the question: Is 150 million people less or more than those who are listening in 2010?

regarding Rosko, WNEW-FM New York, 1967