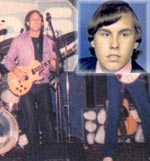 David with The Bings at The Troubador in Hollywood, 1981. inset: David at 17, 1971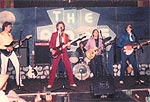 The Bings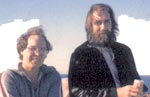 September 1981: The Bings were headed to Catalina Island for a weekend performance, and bumped into Fleetwood Mac on the boat. This is David with Mick Fleetwood.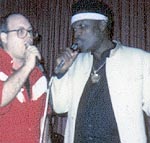 1989: Performing with J.J. Jackson, who recorded "But It's Alright"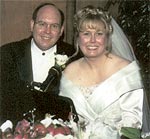 February 12, 2000: David with his wife, Sheryl

David Chrenko grew up in suburban North Jersey, just west of Morristown, during the 1960s. He writes:
"Like just about everyone else I knew, the dial on my transistor was usually tuned to Music Power Radio. It's been thirty-some years, yet I still find myself humming the jingle as I type those familiar words... Seventy-Seven…W-A-B-C!
My radio and music industry journey began in September 1972. I more or less fell into co-hosting Little Eddie's Grease Machine on WRWB, the Babson College radio station in Wellesley, Massachusetts. The following summer, I moved to Southern California, joining an experimental station cablecasting over Long Beach Cablevision. Our station advisor was Danny Martinez of Boss Radio 93 KHJ. From 1976-79 I was heavily involved with the fledgling New Wave movement, working for Greg Shaw's Bomp! Records & Magazine. I joined a rock band, Shepherd, spending lots of time at Warner Brothers' Studios, recording lots of songs that didn't get us signed. The drummer and I left in 1980, shortly before Shepherd's notorious appearance on the tv show C.H.I.P.S., and founded The Bings.
The Bings became a popular New Wave pop group almost overnight, recording a single on the Babymoon label that got played on stations like KLOS and KROQ. We were performing all over Southern California ...even aboard the Queen Mary, and spent the next two years singing to screaming girls, signing autographs, and making pretty good money doing something we enjoyed.
After The Bings ran its course, I got a real job (I've spent a good deal of my adult life in the banking and insurance industries), and started writing-producing radio themes as a hobby, including several for KABC radio's Ken Minyard & Bob Arthur. I stayed busy recording, singing with The Volcanos at the Doo-Wop Society shows in Los Angeles, and performing live with J.J. Jackson, who recorded the soul classic, But It's Alright.
In 1993 I was offered the opportunity to work in Christian radio as a program and commercial writer-producer at KDAR-FM in Ventura County. I hope to resume my broadcasting career on the writing and production side of Christian media. Last year I married Sheryl, and we're busy enjoying our life as newlyweds. All in all, it's been a lot of fun."