TOP STREAM 32 Kbps (10Khz)


This Exhibit 'SCOPED (09:51)

. . . Hey, Los Angeles! Are you ready for Sunday morning? . . .
[Description by Uncle Ricky for this exhibit
contributed by Don Jennett]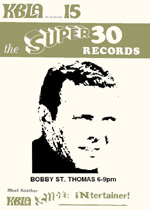 KBLA survey with
Bobby St. Thomas

This is a studio recording of

Bobby St. Thomas

, heard here overnight on

KBLA

from Sunday morning, September 25, 1966. He was also known as

Tom Murphy

at

KBOX

,

KCBQ

and

KLIF

as part of

Murphy & Harrigan

. He was 78 when he passed away in December, 2012, but should not be confused with

Tom Murphy

(WRKO) or

World Famous Tom Murphy

(WCFL). "Bobby" was 32 in 1966. His birth name was

Thomas C. Roche

.

This recording boasts very good fidelity and, for those who remember 1966, a tasty playlist of 21 complete musical performances! Bobby is filling in for Vic Gee (who was later re-named Jim Carson at KGB.) Not sure that Bobby sounds fully comfortable in this hour, but he apparently had a better shift later on at the Super 15. Maybe this was just an "emergency" fill-in.

The only thing happening is the Win Your Own Fortune Teller promotion, something to do with an exclusive single of The Rolling Stones. Did KBLA really scoop KHJ on this one?