TOP STREAM 32 Kbps (10Khz)


This Exhibit 'SCOPED (13:43)

. . . stay a night, or as many as you can, at one of the many costly motels . . .
[Description by Uncle Ricky for this exhibit contributed by Don Jennett]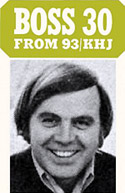 Bill Wade

Bill Wade

was born in Los Angeles and actually worked at

KHJ

in 1963, before the

Boss Radio

days. He returned to KHJ in 1968 and stayed until 1974, and most often followed

Robert W. Morgan

in middays.

Before his time at KHJ, Wade worked at KGB and KDEO in San Diego, KFRC in San Francisco, and other stations in the Northwest. He also operated a Broadcast School for a number of years. As of September 8, 2010, he is teaching at Lampson Business College in Mesa, Arizona.

Wade filled in during KHJ morning host changes at least twice. In 1973, Wade filled in while they waited for Charlie Van Dyke. Here, on a Saturday in January 1972, he is filling in for Charlie Tuna before Robert W. rejoined the station on the following Monday Morgan.