TOP STREAM 32 Kbps (8Khz)


This Exhibit 'SCOPED (19:27)
. . . for those of you planning to be abroad on your vacation this summer, you'll find the Transvestite Gap of KRLA news very interesting . . .
[Description by Uncle Ricky for this exhibit contributed by Don Jennett]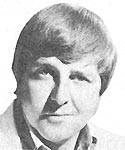 Johnnie Darin
(1971) Johnnie Darin is well-known to Los Angeles natives as a result of his many appearances on KFWB, KIIS, KDAY, KROQ, KNAC, KGOE, KNX, KGIL, KJOI, KBLA and KRLA, where he was Program Director. On this mostly sweet-sounding studio recording from the Thursday before Thanksgiving (November 19, 1970), Johnnie plays the hits on his midday show and jingles from TM.
Before Top 40 at KRLA, Johnnie worked for KGB in San Diego. He also checked in at KACY in Oxnard and KMEN in San Bernardino and worked as General Manager at KSOL in San Francisco before moving to KCOP-TV as a news anchor and KHJ-TV as a field reporter. In addition to producing a decade of programs for the U.S. Armed Forces, Darin has also produced in-flight programs, video and web sites for major airlines.
According to L.A. Radio People, Johnnie is quoted as saying "There is life after radio if you are creative, ambitious... and DESPERATE!!!!"
Johnnie Darin passed away on March 9, 2014. He was 74.