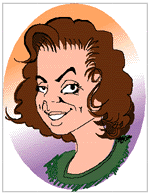 Caricature of Elizabeth Salazar by Bobby Ocean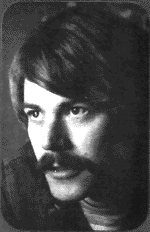 Eric Chase (aka Johnny Mitchell), KGB, 1971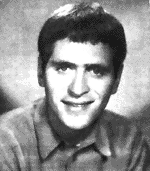 Bobby Ocean, first appearance on the KGB Boss 30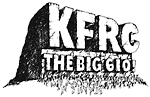 Elizabeth Salazar writes:
Born and raised in the heart of the City of the Angels in 1961, I consider myself fortunate enough to actually remember listening to KHJ in its infancy in the mid-60s and throughout its reign in the 70s.
Radio always intrigued me, as far back as I can remember. I was only five years old but I recall being completely mesmerized by the voices coming from the dash on the radio. Boss Radio had invaded my blood and I was hooked.
Years later, I'd do my homework with the radio on beside me. By that time, I was also listening to and being inspired by two new FM Top 40 stations in Los Angeles, KKDJ and K100. The jocks on both stations -- in particular Rich Brother Robbin, Humble Harve, Jay Stevens, Jim Carson and Kris Erik Stevens -- were, unbeknownst to them, leading me towards a career in radio.
But the one jock who was the definite catalyst for me was Eric Chase, who at the time energized his way through evenings at K100. He unwittingly and unknowingly had an exalting effect on me that soon saw me following in his and the others' footsteps. At age 16, I enrolled in a broadcasting school in West Hollywood.
I was quite the oddity--the only teenager and the only female in the class. At 17, I graduated from high school, got my 3rd phone and my first job in radio--all in the same month. I began at KWEST in Los Angeles, an AOR that never made it to the ranks of crosstown KMET, the powerhouse AOR in the late 70s. I worked my way up from go-fer to on-air within 6 months. Fete acompli!
In 1982, I married Bobby Ocean, who by then was also working at the new CHR-incarnated KWEST. That same year we moved back to his hometown, San Francisco, and soon afterwards began our own production / voice-imaging business that continues to this day. We're based in Marin County, north of the Golden Gate.
I guess that first "KFRC Good Bye" in 1975 set the stage for Bobby's eventual return to San Francisco. After all, he had declared on that now-famous farewell show "...if all there is is here and now, surely we'll bump into each other once again..."