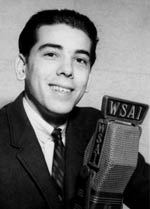 Gary Allyn, WSAI, 1960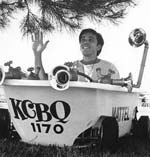 Gary at KCBQ, 1969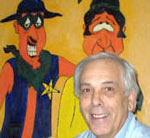 Gary and O.B. Ranger

Gary Allyn is a radio veteran who worked for many legendary Top 40 stations. He started broadcasting at WING in Dayton, Ohio in 1955, and went on to WSAI, WZIP & WCPO in Cincinnati; WMET, WAME, and WMYQ in Miami; WPLO, Atlanta; KIMN & KTLK in Denver; KONO, San Antonio; KCBQ, KDEO, XTRA, XHIS & XHERS, KSEA, KEZL (KSDO-FM) in San Diego, and KWIZ & KIQQ in the Los Angeles Metro area.
Gary Allyn was "The World's Tallest Midget", a production director, music director, program director, or operations manager & National P.D. for lots of big radio companies, including Charter-Bartell, Scripps-Howard, Gannett, Noble, Consolidated Sun-Ray, Mission Broadcasting, Par, Plough and Star. Gary Allyn's consulting firm guided stations in Cleveland, Kansas City, Washington D.C., Tucson, Denver and other radio markets. He worked with many super-talents from the Top-40 era.
Additionally, Allyn owned and operated a recording studio (Top Spots); co-owned an advertising agency, worked as a booking agent, and owned a record company (LYN). Along with Neil Ross, Gary produced over 90 episodes of what has been called by some a "Cult Classic"...the radio comedy series: The Adventures Of The O.B. Ranger.
The Repository thanks Gary Allyn for sharing!