TOP STREAM 32Kbps (12Khz)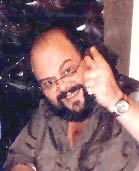 Chuck Riley, courtesy

voicehunter.com

[Description by contributor

Greg Barman

]



Chuck Riley

passed away on May 10, 2007 in Sherman Oaks, California at age 66. His passing silenced one of the biggest "unknown" Big Voices heard by millions. Before he became a top voiceover guy, Chuck Riley (real name

Charles D. Hanks

) was a top 40 jock in places such as Cleveland (listen to the

Chuck Dann

WKYC

aircheck on this site) and Cincinnati. In 1968 he came to

WIBC

for an 11-year ride, mostly in afternoon drive — the

Life of Riley

show. Back then, WIBC-1070 had been a tired, old-line 50,000 watt station that had lost its way.

Fairbanks Broadcasting

took it to #1 in the market and it stayed there for years, with a powerhouse full-service format of MOR music, strong personalities like Riley, aggressive 24x7 local news, major league sports and

Indy 500

coverage, and creative promotions — all done in Fairbanks' unique style.

This aircheck features Riley, with longtime News Director Fred Heckman, in the final hour of a Saturday morning shift in November 1974. Riley's in great form and obviously enjoying himself. He has a great laugh after a "Hollywood Squares" bit. Pardon the electrical noise near the end, it's short. Note the mike reverb, and Fairbanks' unusual formatics like segues from music directly into spots, and the unique Hugh Heller jingles. My favorite is the long, classic "It's a Shame What's Happened to Radio" jingle near the end of the hour, complaining how radio just can't afford to do great things anymore. Except WIBC, of course...

The WIBC "Radio Indiana" Top of the Hour ID and News Intro is Chuck Riley's voice. WIBC still uses it, 30+ years later — imagine that! (In 2007, it's a news/talk station.) Riley left Indianapolis in 1979 and moved to L.A. to crack the voiceover business. He did so, bigtime. His commercial and promo work was everywhere, I recall hearing his voice on the

CBS-TV

network for years. His voice also graced stations such as

KMPC-AM

, Los Angeles;

KZLA/KPOL-AM

, Los Angeles;

WCKY-AM

, Cincinnati;

CKY-AM

, Winnipeg;

WQWB-AM

, Fargo;

KOMA-AM

, Oklahoma City, and many others.

COMMENTS FOR CHUCK RILEY, WIBC NOVEMBER 16 1974
---