TOP STREAM 32Kbps (10Khz)

This Exhibit 'SCOPED (09:50)
. . . Which would you rather be - weak or stupid? . . .
[Description by contributor

Greg Barman

]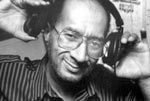 Richard Pegue Richard Pegue held many positions at WVON, from weekend air talent to Music Director, during the "Good Guy" era. His laidback style and dry sense of humor were always a treat.
Here is Pegue on an overnight shift in 1975, after WVON made the move to 1390 Khz. He left the station later that year.
Pegue passed away March 3, 2009. He was 64.
TECH NOTE FROM UNCLE RICKY: This aircheck was made close enough to be listenable, but far enough from the WVON transmitter that the skywave signal is fighting with the ground signal, which is the way most of us heard a lot of AM radio, back in the day.

COMMENTS FOR RICHARD PEQUE, WVON CHICAGO, JUNE 9, 1975
---