WVON was one of the greatest (and some will argue THE greatest) big-city black radio stations of the 60's/70's era. It had monster ratings, ruled the soul music scene and became a radio legend -- all with only 1000 watts days and 250 watts at night on 1450.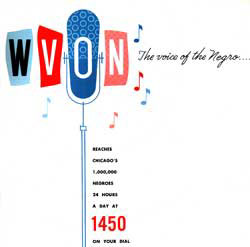 A short history: WVON, the "Voice of the Negro" started on April 1, 1963 after Leonard and Phil Chess, the owners of Chess Records, bought WHFC in Cicero, IL. They hired a lineup of DJ's known as the "Good Guys" — Bill "Butterball" Crane, E. Rodney Jones, Herb Kent, Joe Cobb and others — who stayed with the station for years as it climbed in the ratings. The studio and transmitter were at 3350 S. Kedzie Avenue near the Stevenson Expressway, midway between the West and South sides of Chicago and the city's large black populations, which enabled WVON's big audience numbers. (And they had white kids in the suburbs like me who listened too!). Sometimes WVON hit the top 5 along with the big stations like WLS or WGN. With a hot format of soul music, great personality jocks, local news and strong community involvement, WVON was in the right place at the right time.
WVON ran a large playlist, often 45 songs, and was a big influence on national airplay. According to the station's official history (see: WVON History), Motown records founder Berry Gordy arranged for every song he produced to be sent immediately to WVON before any other station.
The legal ID was "WVON Cicero," which ironically was a nearly all-white suburb.
WVON was a union shop that operated with the jock and an engineer, and some of their jocks really kept the engineers on their toes with tight, complicated overlays. The energy level was tremendous! Other jocks, such as Herb Kent, ran a more laid-back show.
After Leonard Chess died in 1969, his family sold WVON to Globetrotter Communications and the station went thru changes in the 70's. It moved to 1390 with 5kw for better coverage. The Good Guys era ended and they were eventually replaced. The station changed to WGCI in 1984 under the ownership of Gannett, and the WVON call letters came back to 1450 for a while. In 2009, WVON is all-talk at 1690 under the ownership of Midway Broadcasting, formed by ex-staffers Pervis Spann and Wesley South.