TOP STREAM 32Kbps (10KHz)

Arthur Godfrey CBS Radio April 30, 1972 (28:51)
. . .
In 1945 we lost President Roosevelt, and I was asked ... to cover the funeral
. . .
[Description by Uncle Ricky]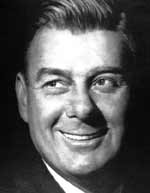 [From a CBS promotional printing.]

"I couldn't be objective. I had to get emotionally involved..."

Arthur Godfrey

concluded 27 years on the CBS Radio Network on April 30, 1972, and this was his last network program, on the first day of what would have been his 28th year. Contributor

Bob Kight

was there "at the old age of 28", at the local

CBS

affiliate.

One of Bob's duties was to make a reel recording of The Arthur Godfrey Show, which the station aired later that day. Bob replaced the station's tape and took this one home. He contributed it to The U.S. Library of Congress, and also to REELRADIO. Thank you, Bob!

Godfrey died on March 16, 1983, and I encourage those of you with an interest in the history of radio to learn more about him. This particular exhibit is truly satisfying, beginning with a nod to Lipton Tea, who sponsored the program for years and years. You'll also hear Godfrey's somewhat sad reflections on the state of network radio in 1972. It's notable that even as personality-hosted Top 40 radio was enjoying huge success all over America, Godfrey was ending an era of traditional network radio. There's much to be learned from Arthur Godfrey in this 28 minutes.

Godfrey said, "The entire life has been an endless battle against the faceless, inscrutable, inhuman, callous establishment.. and those demographics that make a great bunch of numbers and faceless people out of all of us..". But he also spoke of "some great human beings, behind the bland facade of the great corporations..."