TOP STREAM 32Kbps (10KHz)

Bill Bailey, WLS Chicago, May 26, 2008 Pt.1 (44:35)

This Exhibit 'SCOPED (14:38)

. . . I am probably the only one, from the era I was in, that was actually from Chicago . . .
[Description by Uncle Ricky]
Chicago native Bill Bailey appeared on the second WLS Big 89 REWIND, on Memorial Day, May 26, 2008. This is the 3-4 PM hour from that date, sans news, weather and commercial announcements. (Both Big 89 REWIND programs were streamed on our AIRCHECK CHANNEL in past years. )
In this hour, he tells how Dick Biondi helped him get into radio, and chats with John Records Landecker about reverb, which was added to the microphone channels for this special event.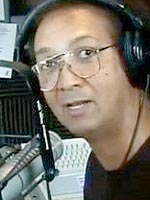 Bill Bailey
Bailey, who was 66 when he died suddenly during a station golf event on June 12, 2013, was a 40 year veteran of radio. He is survived by his wife and daughter.
He was Program Director for Michigan stations WLHT, WTRV, WFGR, WGVU-AM and WNWZ. He worked as an announcer for WLS, WDRQ, WNIC and WMXD in Detroit, WOKY/Milwaukee, WXTR-FM in Washington, D.C., KSLQ/St. Louis, KBEQ-FM and KLSI in Kansas City and WIZF/Cincinnati.
He received the National Association of Broadcasters Marconi Award for Station of the Year in 1998, and was also a finalist for Billboard Magazine's Air Personality of the Year.
The additional hours of Mr. Bailey's WLS REWIND appearance will be presented in future issues.