TOP STREAM 64Kbps (13KHz)

Bill Winters, WCBS-FM New York January 1975 (43:55)

This Exhibit 'SCOPED (12:04)

. . . I have an ounce of gold right here, right here in my hand . . .
[Description by Uncle Ricky]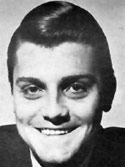 Bill Winters

The late

Bill Winters

sounds really good here in his midday slot at

Solid Gold Radio

, an early version of the long-running

WCBS-FM

oldies format. Tragically, Winters was only 35 years of age when he suffered a fatal heart attack on November 26, 1975, right after his show.

Winters had quite a resume, beginning his career in Rocky Mount, N.C., moving on to Tampa, Florida and WALT and legendary stations like WQAM, WPOP, WKYC, CKLW, WCAO and WBZ. He had been working at WIBG in Philadelphia when he joined WCBS-FM in 1973.

Lots of jingles and a nice oldies mix in this brief 43-minute aircheck, which includes some genuine New Yawk "Doo-Wop" classics. Some weird early "stereo" as well, notably on the first song.