TOP STREAM 32Kbps (10KHz)

Chuck Buell, KIMN Denver CO. March 31, 1982 (27:37)

. . . What is the difference between a man and a shower? . . .
[Description by Uncle Ricky]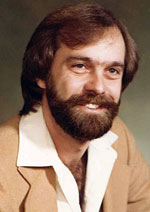 Chuck Buell, 1982

This is a 'scoped aircheck of

Chuck Buell

on

KIMN

in Denver, Colorado, from March 31, 1982. KIMN, the leading Top 40 station a decade earlier, had evolved into a hip "adult contemporary" station with lots of news, traffic reports, and promotion.

Chuck wrote:
"You'll hear a feature I used to do back then from time to time called Chuck Buell's Afternoon Quickie!
I would pose a question that I would not give the answer to on the air, because the answer was always adult and 'naughty!'"
Chuck says that he doesn't remember most of the answers, though he may have them written down somewhere.