TOP STREAM 64Kbps (10KHz)

Casey Kasem, American Top 40, November 1, 1980 (01:09:18)

UNSCOPED
. . . There must be a place for me in radio . . .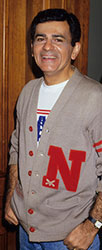 [Description by Uncle Ricky]
This is a partial countdown of hits #23 through #7, for the American Top 40 program of November 1, 1980, broadcast on WVMX-Mix 94.1 in Cincinnati, Ohio as an AT 40 Flashback.
The late Casey Kasem, who passed away on June 15, 2014 at the age of 82, answers a listener's question about the top selling record for each decade of the 50's, 60's, and 70's.
Casey also tells the sad story of Al Jarvis, "the world's first disc jockey" (at 26:17).