---

TOP STREAM 32.0Kbps (14.5KHz)


Cousin Bruce Morrow, WABC New York, January 29, 1969 (54:23)
. . . maybe I oughta tighten that up, I guess, yeah, don't worry about it . . .

WABC Logo from The Top 100 of 1968

[Description by Famous Amos]

The first of our Vietnam tapes is a bit less specific for Vietnam, but no less historical in value. For here we have Cousin Brucie, pre-recording his regular nighttime show on New York's WABC, and then sending it off to Vietnam. Unlike the WMCA feature, this show actually aired on WABC, from 8 to 9 p.m. on January 29, 1969. The station ran news at :25 and :55, so Bruce and his engineer taped in production, in "real time", using time checks, jingles, and stopsets..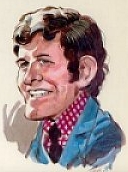 Cousin Brucie, from a couple of years after this aircheck.

Each of the two 25-minute segments here was meant to roll from reel-to-reel, after both the legal I.D. and the top- (or bottom-) of-the-hour jingles were played live on cart. So each segment starts cold with a song, is followed with the body of a real "show" in format, and ends with one of WABC's famous collection of fill-to-newstime instrumental rockers.

The audio quality is near hi-fi... portions sound like they were recorded yesterday. And because it came straight out of WABC's production room, there is no compression or the phamous phat WABC reverb. What's notable about this show is how little of it contains The Cuz! Dunno what else he had to do that day, but there are sure a lot of segues. Of particular note: listen carefully for when a certain spot ends, a record begins, and Brucie talks up the ramp. There was actually an edit there, before the song... how do we know this? The Cuz TELEGRAPHS it in reverse! A broadcasting first!

[* Uncle Ricky Tech Note: Like all REELRADIO exhibits, this exhibit was processed for acceptable performance on the Internet.]