TOP STREAM 20.7Kbps (14.5KHz)


Don Laughnane, WHB Kansas City, 1960 (13:44)
. . . Now let's play Tella Booka Looka! . . .
[Description by Uncle Ricky]
WHB was the home of "The World's Happiest Broadcasters" and the "Big Gun" of the trend-setting Storz group. This rare recording of morning man Don Laughnane (lock-nane) on WHB was taped off-the-air between 7 and 7:30 AM in 1960. Even at this early date, it's not surprising that WHB had one of the most polished Top 40 presentations on the air anywhere - they helped invent the format.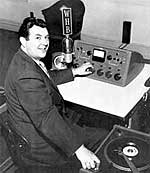 Don Laughnane

Here's the "official" bio-brief of Don Laughnane from a 1958 advertisement for WHB in Broadcasting magazine:

"Don Laughnane, born in County Meath, Ireland and raised in Canada, is an easy-going gentleman, with a deep, resonant, believable air voice. Once used tiny recorder and wrist watch mike to expose after hours liquor and gambling in Omaha. This won him awards . . . and threats."

This is a fascinating ('scoped) half-hour, with a healthy dose of authentic inteference from a nearby electrical storm, unknown jingles (see COMMENT), "accent" reverb, promos, contests, and a "Bannerline" newsreport!