TOP STREAM 32Kbps (10KHz)


Fred Wolf, WXYZ Detroit, MI December 10, 1964 (17:43)
. . . Few women care to have their husbands look like Santa Claus, but they all love them to act like him . . .
[Description by contributor David Carson]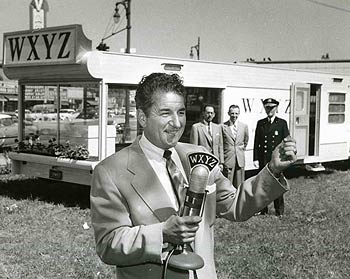 Fred Wolf, shown with his Wandering Wigloo, in 1955

. In 1965, after refusing to play some rock records, Fred Wolf resigned his show at WXYZ. He was also a championship bowler and an inductee into the American Bowling Congress Hall of Fame. Wolf passed away at the age of 90 on August 7, 2000. (Picture courtesy David Carson.)

Here's legendary Detroit morning man Fred Wolf with the "old percolator," broadcasting remote from his "Wandering Wigloo" mobile unit a few days before Christmas, 1964.

Fred started his show on WXYZ ("Wixie") in 1950 when the The Lone Ranger was still being broadcast live from the same station. Although WXYZ went Top 40 in 1958, Fred maintained his folksy approach until his departure in September, 1965.

This aircheck showcases Fred's great talent for reading live copy and really "selling" his sponsors' products. There are PAMS jingles and a newscast from Bob Hardt who later went to WABC.