TOP STREAM 32Kbps (10KHz)

Hy Lit, WSNI-FM Philadelphia PA May 18, 1985 (45:19)
. . . Hy Lit, uptown, downtown, crosstown, the people's choice on a Saturday night . . .

This Exhibit 'SCOPED (08:15)
[Description by Uncle Ricky]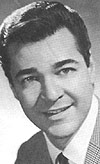 Hy Lit, at WIBG in 1967. (Courtesy
Hy Lit Radio.) Hy Lit (born Hyman Lit, aka Hyski O'Rooney McVoutie O'Zoot) was a pioneer Top 40 DJ on WIBG in Philadelphia, Pennsylvania. He started his career in 1955, and passed away November 17, 2007, at the age of 73.
Lit presented and promoted Philadelphia Top 40 all his life. In this 1985 aircheck, he announces the locations where he will appear for dance parties. Hy was still working nearly every night as a mobile DJ at the age of 51, with the Hy Lit Party Machine.
Listening to this aircheck of Hy Lit, I am reminded of Big Ange (WPRO) and Humble Harve (KHJ). Both had the opportunity to hear Mr. Lit's unique style early in their careers. Hy Lit was obviously one of the originals, influenced many other jocks, and was the one and only Hy Lit.
There's more about Hy and his career at www.hylitradio.com.