TOP STREAM 44.1Kbps (20KHz)


Tribute to Bill Hossman Allen, WLAC Nashville 1997 (06:17)
. . . Don't wait for the hearse, to take you to church . . .
[Description by Art Roberts]
Watt Hairston, an engineer at WLAC (Nashville, Tennessee) who worked with Bill "Hossman" Allen for 25 years, wrote: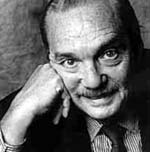 Bill "Hossman" Allen
"Bill left us February 6, 1997. He was 74 years old. He was survived by his wife Nancy, son Rogan, and daughter Bebe. The tribute was produced, edited and narrated by WLAC production manager David Benzing. It was part of a greater tribute that went on all day the Monday after his passing."
And he added, "the business ain't what it used to be..."