TOP STREAM 32Kbps (10KHz)

The Best of Don Imus, WNBC New York September 1972 (55:32)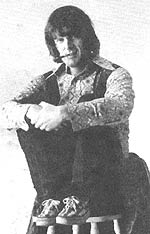 . . .
Keep those cards and letters!
. . .

[Description by Uncle Ricky, contributed by Wayne Scott.]

Don Imus was some of the biggest news in music radio on New York's WNBC in 1972. This "Best Of" composite from September includes Lily Tomlin and Robert W. Morgan with a pre-recorded Billy Sol Hargis bit that was allegedly broadcast on KHJ in 1972.

Twice, Imus declares that Tina Delgado rides again! and identifies a Boss Hitbound, so maybe he was a Boss Radio fan all along. There are lots of classic Imus bits in this composite, and the only disappointment is the fidelity. It's narrowband and a bit distorted, but the content is big-time show-biz radio.