TOP STREAM 32Kbps (10KHz)

Jim Dunlap, WQAM Miami FL, 1964-1966 (40:08)
. . . there's two things I can't stand - that's soggy peanuts and equipment that doesn't work . . .
[Description by Uncle Ricky from notes provided by contributor Brian Kelly]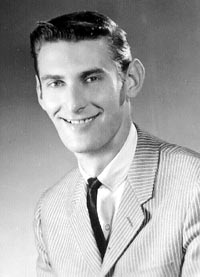 Jim Dunlap, WQAM, Date Unknown
Born July 18, 1936, Jim Dunlap passed away September 28, 1999. This composite of his early radio career on Storz station WQAM in Miami, Florida begins with an aircheck from late 1964, and concludes with an aircheck from early 1966. It's full of all the signature treats of the "Storz Sound" - tremelo reverb, reverb-on-demand, and a time-tone, plus liberal use of PAMS jingles. Dunlap stayed with WQAM until he was asked to become Operations Manager at WIVY-FM in Jacksonville, FL. After Jacksonville, he moved to WBCN in Boston, MA., and eventually was named VP of Programming for Sudbrink Broadcasting in Honolulu, Hawaii.
Dunlap later became General Manager for Mission Broadcasting's KONO and KITY in San Antonio. When his wife Lynne Russell became an anchor on CNN, Jim moved his family to Atlanta and worked as a radio consultant. He was also co-owner of WSWG-FM in Greenwood, Mississippi. In retirement, Dunlap revived his interest in medicine, developed when he joined the U.S. Army (at the age of 17) to serve as a medic with the First Artillery in Germany. He earned accreditation as a Paramedic, and taught Advanced Life Support to other paramedics.
This composite demonstrates Dunlap's predilection for corny jokes, and the remarkably consistent presentation of WQAM over two years. Ex-WQAM jock Dan Chandler writes that "his signoff was legendary: 'Tune in at this same time tomorrow and you will miss my show again...'".