TOP STREAM 64Kbps (13KHz)

Jhani Kaye, KINT-FM El Paso, TX February, 1980 (01:17:01.8)

This Exhibit 'SCOPED (16:42)

. . . I've got a certificate here in my grubby little hand, I'll clean it off before I give it to ya . . .
[Description by Uncle Ricky]
Stereo music has been restored to this mostly unscoped, but edited recording of young PD superstar-to-be Jhani Kaye on KINT-FM in El Paso, Texas.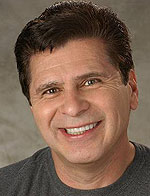 Jhani Kaye, 2013

By the time of this aircheck, Jhani had already established himself in Los Angeles, at

KUTE

,

KKDJ

,

KGBS-AM/FM

and

KROQ

. Off to El Paso and KINT AM/FM as Program Director for a few years, he returned to Los Angeles and

KFI/KOST

in 1982. He held the position of PD at KOST longer than any other PD of an LA music station. In June of 2013, Jhani retired from a highly-successful run as PD at

KRTH / KTWV

.

What we refer to as the "iPod" format is demonstrated here, with a triple-play that has NO identification whatsoever. However, since the original recording was incomplete and music was restored, it's possible that an ID was lost. The contributor seemed pretty confident that all of this was recorded from KINT. We'll have to take his word, since the station was not identified. We don't deny the success of this station or any other station that Jhani programmed, we just can't be sure of the call letters.