TOP STREAM 32Kbps (10KHz)

KRLA Los Angeles Dick Clark Beach Boys Special May 30, 1983,
Part 1 (01:10:00)


KRLA Los Angeles Dick Clark Beach Boys Special May 30, 1983,
Part 2 (46:59)


BOTH PARTS of this exhibit 'SCOPED (39:19)
. . . we'd go into the bottom of an empty swimming pool . . .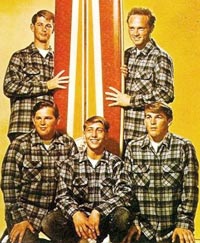 The Beach Boys, 1962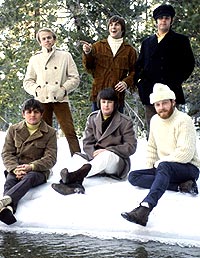 The Beach Boys, 1966
[Description by contributor Pete Tesoro]
Between September 15, 1962 and April 5, 1969, The Beach Boys placed 27 songs in the Billboard Top 40. This included three #1's ("I Get Around" [1964], "Help Me, Rhonda" [1965], and "Good Vibrations" [1966]) plus an additional ten Top 10-ers.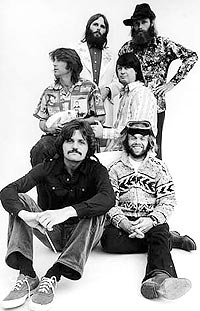 The Beach Boys, 1970
If you look at it year-by-year, late 1962 saw their first entry into the Top 40, with "Surfin' Safari". In 1963, six songs placed in the Top 40. In 1964, there were five songs, in 1965, four songs, and 1966, six songs. During 1967 and 1968 two songs, each year, placed in the Top 40. Finally, in 1969, just one entry. The Beach Boys would not be back in the Billboard Top 40 with a new song again until 1976, with their version of Chuck Berry's "Rock And Roll Music", which made it to #5. For The Beach Boys, the 1970's saw a total of three of their songs place in the Top 40,and in the 1980's, five, culminating with the #1 hit "Kokomo".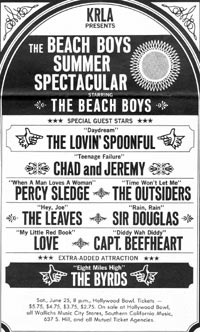 KRLA concert poster
from the super 60's
This Dick Clark KRLA Special, from May 30, 1983, is unique in a number of ways. For one, Clark interviews five of the Beach Boys individually (Brian Wilson, Dennis Wilson, Carl Wilson, Mike Love, and Bruce Johnston).
Also, Clark presents this musical biography nicely through subject matter format, rather than strictly chronological, and weaves his interview spots accordingly. There are a few Beach Boys historical inaccuracies presented, even seemingly supported by Beach Boy members themselves, but overall, this is a very interesting, sometimes enlightening, and most of all, thoroughly enjoyable 1983 special on The Beach Boys, done in superb Dick Clark fashion. Enjoy...
Dick Clark passed away of a massive heart attack following surgery, on April 18, 2012.