TOP STREAM 32.0Kbps (16KHz)


Seattle Radio Crazies Reunion, KYYX 1979 (10:37)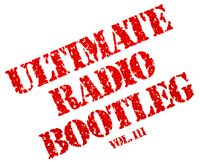 . . . This is Larry Lujack ... remember how great I was? ... I still am . . .
[Description by Uncle Ricky]
Larry Lujack dominates "The Seattle Reunion of Radio Crazies on KYYX" from Ultimate Radio Bootleg, Vol III, compiled by Jeff Salgo, Tony Stone and Jon Donovan.
World Class Hybridizer Jimi Fox Produced, Edited and Engineered this exhibit at Sir Nigel's Manhattan Beach Studios.
In addition to Superjock, Lan Roberts, Pat O'Day, World Famous Tom Murphy, Jerry Kaye and others are featured in these excerpts from the Radio Hall of Fame Weekend on KYYX-FM in March, 1979.
(An expanded exhibit of the Seattle Radio Hall of Fame Weekend is scheduled for future presentation by REELRADIO.)