TOP STREAM 64Kbps (14Khz)

This Exhibit 'SCOPED (31:05)
. . . you give 'em a little playful pat on the butt, and say, now that's from Tommy and Larry . . .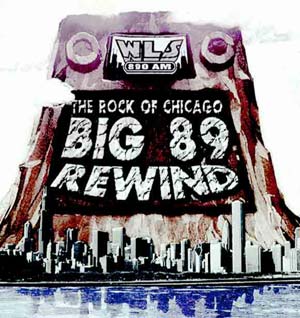 [Description by Uncle Ricky]
Following the lead of sister-station WABC, WLS brought back some of the music and personalities of the station's legendary MusicRadio days on Memorial Day (May 28) 2007, for THE BIG 89 REWIND.
This exhibit highlights one of our favorite hours: Larry Lujack and Tommy Edwards from 8-9 AM, the last of three hours. Lujack discusses the three-million dollar lawsuit brought by Fred Winston in 1976, and delivers a patriotic Address To The Nation in observance of Memorial Day. Les Grobstein and Catherine Johns are featured with sports and news.
REELRADIO previously streamed the entire BIG 89 REWIND broadcast on July 4, 2007.