TOP STREAM 32 Kbps (10 Khz)

Mike Shepherd, KDIA Oakland CA., July 19, 1967 (5:21)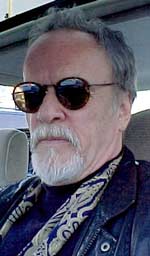 Michael C. Gwynne, today

. . . you'll see what happens, accordin' to what you dig . . .

Regular visitors to the Repository first heard Michael C. Gwynne (Mike Shepherd) as the polished, authoritative narrator on Ron Jacobs' classic KGB 1972 Recycle Documentary.

Gwynne's radio career took him from Natchez Mississippi, through Mobile Alabama, Fresno and Monterey California before KPOI in Honolulu, where he broke the world's record for nonstop

From KDIA Lucky 13 of September 30, 1966. (Courtesy Bay Area Radio Museum.) drumming (92 hours) in the 1965 "DrumAThon".
After that feat, Gwynne joined KDIA in Oakland/San Francisco, where he says he was the only "night light" on the air.
Stints at WWRL in New York, with Murray The K at CHUM and KGFJ in Los Angeles (as "Lee Vaunce") followed. Gwynne left radio full-time in 1970 because acting offered a better deal.
Just prior to the date of this aircheck (July 19, 1967), Gwynne and KDIA "Lucky 13" were competing with Sly Stone on KSOL.