TOP STREAM 32Kbps (10KHz)

Paulie Career Composite (05:46)
. . . you're my pride and joy, et cetera - great lyrics like that will never be matched . . .
[Description by Famous Amos]
Many years ago, there was an unremarkable public high school in Yonkers, NY. Nothing trendy went on there; it was not the "new place where the kids are hip", and they never had a class or club that dealt with the emerging media or culture of the late '60's. Nonetheless, that high school (which shall go nameless, although two Presidents did have that name!) managed to produce, around the same basic time: a world class rock star; a legendary comic who allegedly had been a substitute teacher there just previously; one longtime metropolitan area college radio General Manager; and at least three rather high-profile New York City DJ's.
I didn't even know Paulie Tarowsky (Briggs) in high school, as the joint was so massive, one had no clue which anonymous body in the hallway was destined for Greatness. But it certainly wasn't long after graduation, that "Paulie" became a household name, the late-night jock on one of the hottest CHR's New York ever had, 99X (WXLO). This was all the more remarkable in that there just weren't that many "girl DJ's" in mainstream Radio, at the time. Paulie was a groundbreaker; according to the hype, RKO General's first female jock, ever. And, to the eternal gratitude of all female jocks who came afterward, she made it seem like her being there, cookin' like a champ in the Bigtime, was just the most normal thing in the world.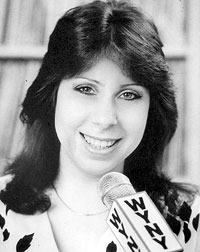 Paulie

Paulie emerged from

WBLI

on Long Island, and shot to 99X; she later moved to

KLOS

and

KHTZ

in Los Angeles (which is just west of Broadway, if I'm not mistaken). Returning to her East Coast roots, she joined

NBC

's top-rated O&O FM station in New York,

WYNY

, and later appeared on

WCBS-FM

. She went on to work at great stations in other markets, like

WKSS

("KISS-FM") in Hartford and

WAQY

in Springfield.

Paulie left Radio around 1987, and raised a lovely family (this pioneer "girl DJ" lives unsuspectingly in a large, designated landmark home on Long Island, festooned only with the occasional antique radio set, as a hint to visitors of its owners' Radio roots). Together with her husband Stan Briggs (former Hartford/New Haven radio engineer, and currently Assistant Director of Engineering at WABC-TV in New York, where he hobnobs with Regis and Kelly), they began one of the area's first ISP's.

This composite brings us back to the Paulie we knew and loved, at KISS-FM in Hartford; WCBS-FM in New York; WYNY in New York, and — of course — the glory days of 99X ("... is my radio station!" See? I remembered "The Phrase That Pays"!).