TOP STREAM 64.1Kbps (16KHz Stereo)


Pat St. John, WCBS-FM New York City, 2002 (16:09)
. . . Jackie Wilson, on the Brunswick label - not only did they make records, they made bowling balls as well . . .
April 9, 2003 marked Pat St.John's 30th Anniversary on the airwaves of New York City. At the time, Pat was heard on WCBS FM.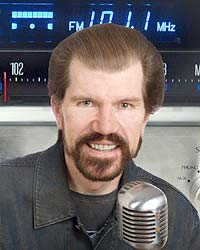 Pat St. John, 2003

But it was Pat's love of Top40 radio that led to his first real gig in 1969 on 50,000 watt powerhouse CKLW in The Motor City. This was right after his 18th birthday, making him one of the youngest jocks to ever work at such a giant radio station. When first hired, Pat pulled down three DJ shifts a week, drove the "CK Camaro" getting actualities for the news department two days a week, and pulled a 20/20 news shift one day a week, as well as doing booth announcing on CKLW TV. While great experience, doing the news was not what he really wanted to do, and he eventually got the full time overnight shift.

In late 1970 he moved cross-town to WKNR, where he wound up in the afternoon shift. Two of the most notable things about Pat's "Keener" gig were the summer of 1971 when he did both morning AND afternoon drive for almost three months — and The ALSAC Radiothon, which Pat hosted for 17.5 hours. In 1972, Pat joined ABC's Detroit album rock outlet WRIF (his first 101.1 frequency) and in 1973 he moved to sister station WPLJ in New York, where he remained for almost 15 years.

While hugely successful as an AOR station, 'PLJ switched to Top 40 in 1983, and during those CHR years Pat was rated "the most listened to afternoon drive jock in America" according to Arbitron. In 1987 Pat moved over to 102.7 WNEW-FM "Where Rock Lives" for an 11 year run, including becoming the station's program director in 1992.

When 'NEW went "talk" in 1998, Pat concentrated on his voiceover career including his yearly gig as the announcer on "Dick Clark's New Year's Rockin' Eve" and doing spots for clients like Chevrolet and Pepsi.

Pat loved his gig at CBS FM, and says: "When you're filling in for legends like Dan Ingram and Cousin' Brucie it's a rewarding experience."

Pat has also kept close to his hometown roots, as his input has been requested for numerous Motown projects, which is why you see him "thanked" on "The Deluxe Edition" of "What's Going On" by Marvin Gaye, The "Ultimate" Jr. Walker & The All Stars CD, as well as the box sets of The Temptations, The Supremes, and Stevie Wonder.

As well as being heard on stations coast-to-coast via The American Comedy Network, Pat also writes for "The Audiophile Voice", an international magazine. Here's an article that Pat wrote about rock pioneer Johnnie Johnson (PDF). Pat also recorded an interview with Johnson which will appear on his new CD.

This exhibit is a composite of shifts Pat did in mid 2002, ending with the the WCBS 30th Anniversary celebration in July. These days, you can visit Pat on the web at www.patstjohn.com.