TOP STREAM 44.1Kbps (20KHz STEREO)


Rosko Recites Desiderata (04:58)
. . . You are a child of the universe . . .
[Description by John Bisci]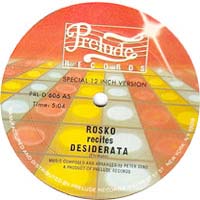 Desiderata was written in 1927 by Max Ehrmann, a poet and lawyer from Terre Haute, Indiana. When recorded by TV talk-host Les Crane in 1971, it became a Top 40 Hit. Promotional materials suggested it was found in a old church prior to 1700! The story of how that happened is here.

Rosko Mercer worked at WKTU-FM in New York City in the early '80's. We'd listen to him each year when we attended Dance Music magazine's Nightclub DJ Conventions (New Music Seminar). Sadly, I never saved the cassettes I made of his shows.

I went searching for WKTU-era airchecks of Rosko and found a 12-inch record. This surprised me, because I had never heard or seen it before — and we used to get everything dance-related through our record pool and promo man.

Rosko Recites Desiderata (on Prelude Records, music composed and arranged by Peter Dino) might have been a NYC-only promo, for all I know. I would guess it's from 1982-1984.