TOP STREAM 64.1Kbps (12KHz STEREO)

Robbie Paramor Presents "The Sixties: A British Decade (24:41)

. . . You were only supposed to blow the bloody doors off! . . .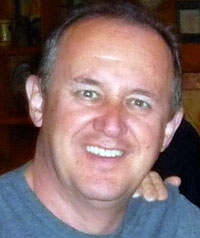 Robbie Paramor
Robbie Paramor (AKA Robbie Mason) worked as a DJ in night clubs and discos in England in the early to mid 70's, followed by 10 years of radio — first as a jock at a cable Radio station in London called UBN (United Biscuits Network) where a lot of the UK's top DJ's got their start. After UBN he moved into production and became the production manager at Mercia Sound in Coventry (about 100 miles north of London) then moved to Chiltern Radio in Bedfordshire.
In 1986, Robbie moved to the U.S. and got into editing for TV. As of 2001, he had worked on "The Amazing Race" for CBS, and "Real TV" for Paramount. In 2014, he's a reality TV show editor, having worked on Trading Spouses, Nanny 911, and more recently, Hell's Kitchen. He has also been featured as voice talent for a few TV shows — Trading Spouses and Mobbed are just two.
In 2002, REELRADIO was pleased to present a montage that Robbie created for his High School Reunion in Plymouth, England in November 2001. In 2014, Robbie has updated and extended his original work and created a new and improved montage.
Robbie writes:
" This montage now spans the entire 60's. I have included 1960 thru 1962, and 1968 thru 1969 — plus there are many updates in the original montage. This time I have tried to make it more historically poignant! "