TOP STREAM 32Kbps (10KHz)

WLS DJ Reunion, April 1985, Part One (01:13:20)
. . . What are you doin' to our children?! We're makin' money off 'em! . . .
[Description by Uncle Ricky]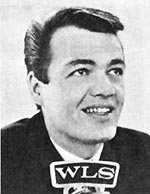 Larry Lujack, from WLS Hit Parade survey, March 1968 This fascinating exhibit features segments of the WLS 1985 DJ Reunion, broadcast in April, 1985. Most of the music was not included, but one selection was restored.
The biggest voices (literally) in early Chicago top 40 were in the Big 89 studios. Chuck Britton introduces Mort Crowley, Sam Holman, Officer Vic, Gene Taylor, and Bob Hale. Jim Dunbar, who retired in 2000 after 37 years in talk radio at KGO/San Francisco, phones in from the Bay Area, and Larry Lujack is featured with his hilarious Cheap & Trashy Show-Biz goodbye to VP/GM Taylor from 1971.
Also part of the free-wheeling fun: Biondi and the bleeding bassist, background on the custom Anita Kerr jingles, and a 1962 anniversary promo by Mort Crowley for New York sister station WABC and Herb Oscar Anderson.