TOP STREAM 32Kbps (10KHz)

WLS DJ Reunion, April 1985, Part Two (01:00:43)
. . . Phyllis Levy and her groin inspectors, Sunday night, nine to midnight . . .
[Description by Uncle Ricky]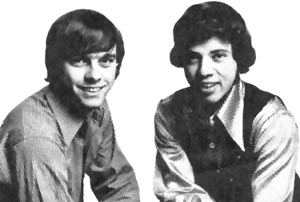 Chuck Buell and Kris Erik Stevens,
from WLS Hit Parade survey, Feburary 9, 1970.
Neither was included in this exhibit. This tightly edited hour, presented as part of the April 1985 WLS 25th Anniversary DJ Reunion begins with a composite of some of the Big 89 DJs, including Gene Taylor, Dick Biondi, Ron Riley, Dex Card, Jerry Kaye, Scotty Brink, Steve Lundy, J.J. Jeffrey, Joel Sebastian, Bill Bailey, Charlie Van Dyke, Bob Sirott, Yvonne Daniels, John Landecker, Larry Lujack, Tommy Edwards, Steve Dahl, and Gary Meier.
A music and jingle montage follows, and the exhibit concludes with a commercial and news composite.
Much of this material was previously presented in Jeff Davis: WLS, The MusicRadio Years, 1960-1985 from the 1997 DJ Reunion.