TOP STREAM 64Kbps (10KHz)

Brother John Rydgren, WLS-FM Chicago LOVE, August 1969 (45:45)

This Exhibit 'SCOPED (15:56)
. . . This Is Love. WLS-FM, Chicago . . .

[Description by Uncle Ricky with notes from contributor Henry Tchop]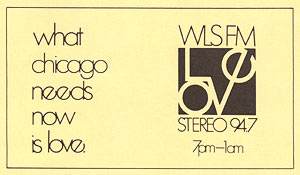 Print advertisement for WLS-FM Love, May, 1969 (courtesy

BradZR1

).
Brother John Rydgren on

WLS-FM

in Chicago from mid-August, 1969.

It's the ABC LOVE format, and an excellent American FM Radio Network newscast with David Garcia is included. There's also a LOVE rock 'n' roll lifestyle feature hosted by Howard Smith.

The ABC LOVE format was created by Allen Shaw, who was hired from WCFL by ABC Radio President Hal Neal (who had also hired John Rook to program WLS-AM.) Shaw was asked to produce rock-oriented programming for all seven of the ABC-FM radio stations, but it had to be automated. The solution was the The Love Format. The "Love" tapes were recorded by Brother John in New York, and here is evidence that the tapes were played on WLS-FM in Chicago.