TOP STREAM 44.1Kbps (20KHz)


WMAL Washington Heller JAM Jingles Composite (20:22)
. . . That's why we like to be in Washington, D.C. . . .
[Description by Jon Hoffman]
These jingles here were recorded off the daily use carts in 1986 by the lovely and talented
Bert Cohen,
the venerable WMAL engineer and board-op during many years before and after my affiliation. Bert was a main instigator of drop-ins and for that I will always be thankful.
Many of these packages were used concurrently. There are Hugh Heller "customs" which were known for their eclectic style and unusual harmonies. Heller apparently was not market exclusive because down the road competitor NBC owned WRC 980 used another Heller package at the same time. When Heller closed its doors WMAL went outside the main jingle realm to find a new package. The long familiar WMAL melody was changed and the jingles were amateurishly awful. The package lasted on the air for only a few months and then quietly disappeared.
Probably at ABC's behest WMAL started using JAM packages which brought back the original melody and were quite nice to listen to, but, of course, never had the special sound that Heller had provided.
HIGHLIGHTS:

At the beginning, We Like To Be In Washington D.C. - lush, signature acapella, similar to KSFO's Sound Of The City jingle.



At 07:17, Radio 63, Where All Is Said And Done - Mostly male, heavily-reverbed vocals reminiscent of the TM Fusion sound.



At 12:07, Mad Scientist, one of the comedy vignettes Heller often included in his packages.



It will be obvious to most listeners, but the JAM package begins at 18:22.

The original licensee for AM frequency 630 was M.A Leese, a Washington DC optometrist. Hence the call letters WMAL, which went on the air in the 1920's. The license was then sold to The Evening Star Broadcasting Company, a division of the The Washington Star newspaper. The company also owned WMAL-TV (Channel 7, as of 2003, WJLA, named for Joseph L. Albritton, the owner of the newspaper. The newspaper/station ownership was broken up in the early 1970's with the radio stations including WMAL AM & FM being sold to ABC. WMAL-FM (107.3) was an ecclectic mix of jazz. WMAL-FM then brought the Q format to DC with its Q107/WRQX. As of 2003, it is Mix107.3.

WMAL-AM was always full service with visually as well as vocally recognizable high profile personalities as well as a mix of music standards, some new music and jazz, an award winning news department, the Washington Redskins and Maryland Terrapins franchises and even a traffic helicopter piloted by Washington DC police officers.

I started listening to the station when I was a child and eventually passed up other popular DC full service AMs and rock and roll WRC, WPGC and WWDC for the "we're right there in your house sound" of WMAL. Washingtonians always felt the morning team of Frank Harden and Jackson Weaver were talking directly to each of us as individuals. So, it didn't matter when they started talking about sponsors. We thought it was part of the conversation. Frank and Jack were together on the air for over 40 years until Jack's sudden death in the early 90's. During any given Christmas season a sold out spot schedule meant no music was played during morning drive. It was ALL commercials from 6-10 AM, but it didn't matter. We thought Frank and Jack were just talking and having a fine old time entertaining us.

Middays were handled by a terrific talent and yet another fellow whom you felt you could invite to dinner, Tom Gauger, who had gotten his big start at and frequently would refer to WIOD, The Wonderful Isle of Dreams in Florida. You got a lot of inside radio reference and humor by listening to WMAL. Tom would let me visit him at the station and even choose some of the music to be played on his show. Tom's classic sign offs were traditionally a montage of character voices fron Stan Freeburg routines.

On Saturday as a bridge at the end of the daily ABC/Paul Harvey feed there would be a flubbed version of the stations long signature jingle by Hugh Heller "We Like to be in Washington DC", (a "straight" version of the jingle is in this exhibit.) I own a very rare and cherished vinyl record of these sigs given to me by Mr. Gauger. I also have a rare recording of Tom and special in studio guest Miss Carol Channing as she tries to find her way through a live read Safeway food store spot. It's priceless.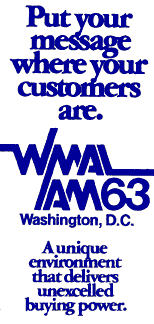 In the afternoons came Bill Trumbull, the man who truly changed my life and whom I've never gotten to thank personally. Bill also allowed me to visit him in studio on Saturday afternoons. The personalities at WMAL had to work a six day week (which they didn't like to do.) Bill would regale me with stories and I would try to give back some of the humor he had unknowingly taught me. Bill was teamed up with former VOA announcer Chris Core in the late 70's. Trumbull and Core were second to none in my opinion of what a fun team show should be and I should know, I got to submit comedy bits to them and on occasion would have them used on the air. While I was staff copy writer, if Trumbull knew I had written a particular spot, a 60 second spot could run 2 minutes. Talk about happy sponsors! As of 2003, Chris was still on the air as a solo doing the late aftenoon drive shift.
In the evenings Washingtons premier jazz authority Felix Grant would present his show. Felix was a proud man and always eager to showcase new jazz talent as well as to have well known artists make the sojourn to the stations far Northwest DC location just to see him. He is credited with bringing Sergio Mendez to popularity in the USA.
Overnight was the incredibly laid back Bill Mayhugh whose voice was probably registered in the pharmacopaea as a sleep aid. Talk about mellow.
Fill-ins and then Middays in the early 80's was a great guy named John Lyon. Lyon was terrific at enjoying what he did. One day I was at the station and Lyon said the "S" word on the air, but again it was okay because it was just very matter of fact. As far as I know they never received a single call or letter about it. The station manager was standing in the board op booth and just laughed. He loved to play Gordon Lightfoot songs and introduced Washington to the cajun humor of Justin Wilson. Washingtonians may sadly recall that it was John's two young daughters who disappeared from a suburban shopping mall in the late 60's and were never heard from again.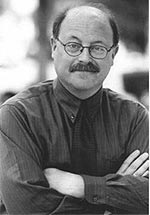 Contributor Jon Hoffman

In the mid '80s I realized a dream by becoming the stations fill-in airborne traffic reporter. I got to schmooze and be part of the fun I'd grown up listening to. I then went on to become the WMAL's staff copy writer. I had the knack of being able to write for each personality because I had listened intently to them for over 20 years. During the time I was growing up and becomming more involved with the station, in fact for over 60 years, full service WMAL AM63 was never out of the top 3 in ratings for that major market. Sadly, since ABC's decision to turn all of its AM stations to talk, WMAL News/Talk 630 has fallen out of the top 10.

Such are my remembrances of the station to which I grew up listening. I was fortunate to work there.

— Jon Hoffman, 2003