TOP STREAM 32Kbps (10KHz)

Wolfman Jack, XERB Los Angeles, 1968-1970 (01:03:16)

This Exhibit 'SCOPED (23:55)
| | |
| --- | --- |
| UNSCOPED | 'SCOPED |
. . . This is Fifty-Thousand-Watt Clear Channel XERB, Radio North America, Central Studios Los Angeles, Ten Ninety on your dial . . .
[Description by Uncle Ricky]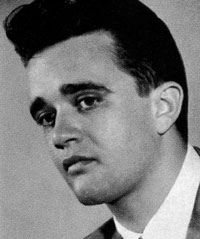 Bob Smith, 1958
Thanks to DCC Compact Classics for their 1998 contribution of this CD with this wonderful, re-constructed, partially-restored exhibit. Wolfman Jack recorded his programs heard on Mexican-licensed XERB in Hollywood. The tapes were carried across the border and played from the transmitter location. This exhibit was created from a number of those tapes, and Wolfman is featured on different days of the week.
The recordings are titled as "Actual XERB Radio Broadcast Airchecks From 1968-70". We gave ten of them to REELRADIO listeners in 1998. We're happy to add a "fair use" 'scoped version to the Repository, as this is Wolfman (Bob Smith) at his best.